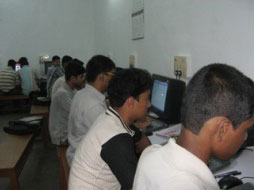 Multimedia learning is also another feature of the computer lab. Through audio and video appliance teacher can vividly teach his topic to his students. Moreover, in science teaching, this type of audio-visual-interactive lectures impresses the students to learn the topic clearly. We have started this teaching with DLP projector and large screen ( 16 ft X 14 ft ).
Today internet is the world library. It is the modern version of encyclopedia, only magnified about thousands times. Our students and learned staff-members enjoy uninterrupted internet browsing.
All the Departments in the College are equipped with computers which are interconnected through LAN and wi - fi networking. Other teaching-aids like overhead Projector, Slide Projector, Digital Projector and other media facilities are also available.